Author Note: This post was originally published on the Covario blog in July 2013. 
With greater frequency, we are seeing forms of Discovery Marketing being adapted in multiple mediums. Google's recent announcement of the local "Carousel" has proven to be a major advancement in how search is being displayed. Due to the more visual nature of us humans, the Carousel offers various channels for the users to discover information and brands in a more visual and interactive manner.
Understanding How the Visual Carousel for Local Search Impacts Clicks, Rankings, and Your Overall SEO Strategy
Google's Carousel could be a major shake-up for local search marketing campaigns. Although the Carousel does not show for every search, our research indicates that the Carousel layout is most likely to appear for search queries where user interaction – such as reviews and photo uploads – are common. , We believe this is likely to expand to other search results in the near future.
In this post, we'll investigate how the Carousel impacts click behavior, rankings and overall SEO strategies for local search queries.
How Carousel Works
The Carousel view displays a horizontal strip of images at the top of the search engine results page (SERP) that slides from left to right (if the quantity of results warrants it) and is highlighted with a black background. Previously, when searching for restaurants, bars or other nearby places, local results were displayed as a vertical text list, typically listing about five to seven businesses, in a fairly normal and even somewhat boring fashion.
The new Carousel format includes many more listings, and is much more eye-catching with rich information for each business listed, such as an image, number of reviews, review score, average costs, and type of food.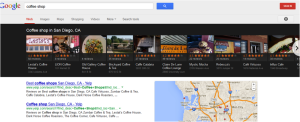 Typically we see that Google continues to push organic listings farther down on the SERP. Organic results are getting less real estate due to expanded coverage for the knowledge graph results (just try searching "acne treatment") and product listing ads (PLAs). However, the local Carousel listings are located on top of the page, above paid search, knowledge graph results, and organic listings.
Furthermore, the new horizontal design displays about 30 percent more business listings and it covers about 40 percent less vertical space, leaving more room for organic listings than previous local results. Even more local results can be displayed once the user moves the map to his or her desired areas. This gives local SEO a much larger opportunity to dominate the search results page.
How Carousel Uses Google+ Data
Business listings are being compared side by side with images, review counts, and star ratings. Zagat based numeric score ratings were originally displayed, but Google has abandoned that method in favor of a more universally understood star rating system. The street address, category, and $ cost rating can also be displayed in the Carousel depending on the search query.
Images are first pulled from a Google+ profile or, if no Google+ profile image is available, an image from another review site. If no image is found, a map of the business address will be displayed. It's also important to note that any image from Google+ (even user uploaded images) has priority over other images on the Web for Carousel display purposes.
How Carousel Leverages the Knowledge Graph
When a business is selected within the Carousel, the search itself changes to provide additional results for the "selected business name + location." The SERP is updated and the full knowledge graph for the business appears in the right sidebar. This sidebar provides easy access to additional information about the company, including links to Google Maps, Google's Inside View, additional photos housed on Google+, Google Reviews (See a pattern?), and more. Links to reviews on other sites and related searches are also provided.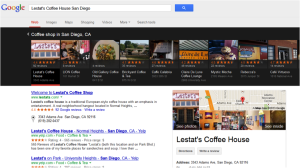 Because so much information is displayed directly on the SERP, it may be less likely that searchers will ever click on an organic result, as they can usually obtain all of the information they're looking for directly from the knowledge graph. If the user does click through to the company website, the referral keyword will be the "branded keyword + location" as opposed to the original generic search term.
Before the Carousel, users may not have completed a search for the "branded term + location." This means that branded keywords are most likely going to increase in search volume over time. If the search volume increases for your branded keywords, it could not only increase the number of branded visitors, it may also impact or increase the Cost per Click of your Pay per Click ads for branded terms. If the branded keyword referrals rise, KPIs will have to be adjusted. In addition, location-based landing pages (COULD NOT OPEN THIS LINK) on your site are going to be increasingly important.
Impact on Click-throughs in the Carousel
Because search results are shown horizontally and not vertically, traditional ranking CTRs may no longer apply. In a recent study, published on LocalU.org, it was discovered that the No. 1 local ranking position did not always get the highest amount of clicks. In the test, the actions of 83 people were tracked on the new layout. The results showed that 48 percent of the total clicks were on Carousel results and only 14.5 percent of the clicks were on the map. Additionally, the eighth Carousel result had the most clicks and the third Carousel result had the second most clicks.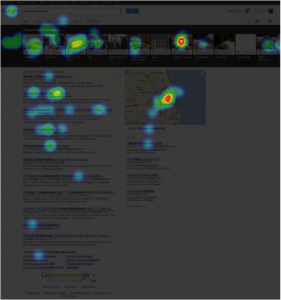 Business imagery is predicted to become a strong influence on click-through rates as searches react to an appetizing (pun intended) picture of a particular restaurant or cuisine. In this study, the first position may have achieved additional clicks by displaying more captivating images. Rankings may no longer be the main driving success factor since businesses are now able to compete in a more visual approach.
Impact on Ranking Factors and Importance
When analyzing the new local Carousel results, there are important patterns to note that seem to be affecting ranking positions. When analyzing the results for the generic query of "coffee shop" (with no geo-modifiers or city mentioned), rankings are no longer based on businesses closest to your IP location; rather, the results are pulled from a broader geographic area.
Ranking factors seem to include the search volume related to the business name, the freshness of user reviews, the amount of images uploaded, and the presence of an "inside view" of the business. When analyzing the importance of a multitude of factors, one seems to be the most important: Search volume of the brand. The top three positions tend to be more volatile and rotate, whereas the positions four and above are more static.
| | | | | | |
| --- | --- | --- | --- | --- | --- |
| Position | Company | # of Reviews | Last Review | Search Volume | Inside View |
| 1 | Lestat's Coffee House | 91 | This Week | 110 | Yes |
| 2 | LION Coffee | 6 | 1yr Ago | 91 | Yes |
| 3 | Old Gallery Coffee House | 4 | 2 Months Ago | 73 | Yes |
| 4 | Brickyard Coffee & Tea | 34 | 3 Months Ago | <10 | No |
Another observation from our research is that locally owned businesses seem to rank higher in the Carousel than large chains. The issue of locally owned businesses outranking national brands was also discussed by Brent D. Payne from SEMPO in his most recent Google+ Hangout, which focused on localized link-building.
We certainly can predict that Google will continue to improve its search results and update the ranking algorithms to create a more successful user experience.
Actionable Insights
There are several ways companies can participate in this new form of discovery marketing by optimizing for a more successful visual and interactive experience for the user.
As we have seen, your Google+ business profile has a large effect on the Carousel. Therefore, it is recommended to optimize your Google+ page by encouraging more Google reviews, optimizing images on Google+, and posting more frequently on Google+.
We also recommend adding the "See inside" feature via a Google-trusted photographer, and investing heavily in your online appearance and imagery.
Mobile SERPs have not yet been affected by the Carousel. That said, we believe these steps will also aid your mobile search rankings.